Saturday, May 12, 2012

Continental US Only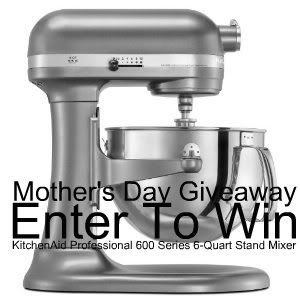 Quick Tattletails
,
Linkies Contest Linkies
,
Grandma Bonnie's Closet
,
VoiceBoks
, and
Terri's Litttle Haven
have joined up with
Mom Blog Society
,
The Homeschooling Blog
,
Ginger High Books R Us
,
The Joy Of Saving Money
,
Frugal Plus
,
The Mystic Kitchen
,
Dallas Single Mom
and
Insights by April
.
Please thank your sponsor by clicking the below Twitter button to share this giveaway. This is not mandatory to enter the giveaway but it is very much appreciated.
We love your comments but please note that you will need to enter the giveaway using the rafflecopter form. If you are not familar with rafflecopter you can watch a quick 52 second
video
to show you how to enter with rafflecopter. Thank you for your participation and good luck to each of you.
a Rafflecopter giveaway
Disclosure:
This giveaway is hosted by the above mentioned websites and is not affiiliated with Kitchen Aid, rafflecopter, facebook, Twitter or any other individuals. The winner will be notified by email at the close of the giveaway as soon as the entries are verified and the giveaway item will then be sent directly from Amazon. None of the above mentioned websites shall be held responsible for any issues that might arise during the shipment from Amazon. Participants must live in the continental US and be 18+ to enter.
Posted by

Bonny Sallee
at 5/12/2012 12:16:00 AM


Comment Page :